GLENVILLE — In Antarctica the summer season is in February, with temperatures reaching a warm 20 to 30 Fahrenheit degrees in certain areas, but temperatures by the ice caps are around 40 to 50 degrees below zero.
A 15-member advance team on Friday, Oct. 14, left from Stratton Air National Guard Base in Glenville with the 109th Airlift Wing, marking the start of the 23rd season of Operation Deep Freeze, which has crews traveling to Antarctica to the American base at McMurdo Sound. The ski-equipped LC-130s operated by the 109th are the only aircraft in the United States military capable of landing on snow and ice. Around 100 to 120 airmen will deploy each week for 30 to 60 days.
Maj. Joe DeConno, 43, of Charlton, was remaining on base after the advance team's departure, but DeConno will work two five-week shifts during the working season, which lasts around four months. Crew members work 12-hour days for six days a week and work a half day on Sunday.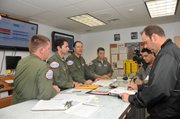 "Our missions are flying fuel, cargo and people … up to over 20 different landing locations," DeConno said. "They are all supporting the National Science Foundation."
Around 400 missions will be flown by the 109th with more than half of those dealing with moving passengers, cargo and fuel to the South Pole. On average, the wing moves about 12 million pounds of cargo each season, too.
The science experiments in Antarctica focus on climate change, looking at ice cores and glacial movement with a telescope at the South Pole, among other projects. The station at the South Pole can hold up to 250 people during the summer season. There are beds, a cafeteria, gym and a place to grow fresh vegetables among other amenities, DeConno said.
During the winter, DeConno said there are still around 50 people based at the South Pole.
(Continued on Next Page)
Prev Next
Vote on this Story by clicking on the Icon