continued — McGraw said the initiative is important to set a precedent and encourage other retailers within the town and Schenectady County to install similar technology.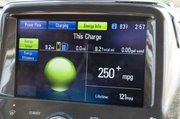 Christopher Gardner, attorney for Schenectady County and a Niskayuna resident, owns a Chevrolet Volt, which has a 10-gallon gas tank to supplement an electric charge that lasts 40 to 50 miles. Gardner estimated he saved around $240 on gasoline per month since owning the car.
"I think this is probably the first public charging station in Schenectady County. I think you are going to see more and more people getting the electric vehicles too, so it is a great idea," Gardner said.
What led Gardner to purchase the car was his two visits to Alaska, and noticing how far the Mendenhall Glacier retreated on the second visit, which was a year after his first look.
"The second year it had retreated another three-quarters of a mile or so and that kind of stuck in my mind that global warming is a real phenomenon and we all need to do things to deal with it," Gardner said. "It is great that ShopRite is promoting people buying these types of vehicles and I think it is a nice addition to the store."
Garnder said to fully charge the battery is estimated to cost $1.50 each day. Being able to add a little more "juice" to his vehicle is a "little added incentive" to patronize ShopRite. The 240-volt charging station could fully charge his car in three to four hours. At home he only has a 110-volt charge running into his car, so it takes seven to eight hours to charge.
As far as keeping the spots "reserved" for only electric vehicles, ShopRite is hoping the community will respect the designation. Unlike a handicap spot, there is no legal recourse.
Vote on this Story by clicking on the Icon