New York lags in electric
continued — There appears to be more reasons people haven't seen electric charging stations popping up throughout the Capital District besides the associated costs.
According to Michael Murr, service manager for Lia Nissan in Schenectady, state law prohibits anyone except utility companies to charge for electricity. This would mean legally ShopRite doesn't have much recourse except to eat the costs associated with the charging stations.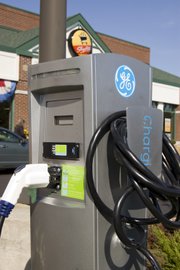 Also, Murr added infrastructure investments in the state are lagging behind others in implementing electric charging initiatives.
"The great state of New York is lagging in the back," Murr said. "[Nissan] said that New York wasn't up to speed with the electrical installations as the other states were."
Before being contacted by The Spotlight, Murr said he wasn't aware the new ShopRite had electric charging stations installed, but he was pleased to find out.
The Nissan Leaf is the latest green offering from Nissan, and is 100 percent electric. Unlike Gardner's Chevy Volt the Leaf can't rely on fuel as a backup plan. Having charging stations to ease a customer's fears about running out of juice is vital, Murr said.
"Having a car that you can plug in while you are shopping is beautiful," he said. "Because we are such a 'fast food society,' I am just wondering on their patience. Is somebody really going to be patient to see the battery recharged?"
In time, Murr believes consumer habits may change to accommodate charging needs, but maybe charging time won't be a real issue in the near future.
"I'm sure somebody is going to come up with a way to make it faster and more economical all in one shot," he said.
Vote on this Story by clicking on the Icon