CAPITAL DISTRICT — It takes about 650 turkeys (that's 9,000 pounds) to feed the roughly 9,000 Capital District individuals who benefit from the Equinox Thanksgiving Day Community Dinner and this year, Price Chopper is donating every single turkey needed for the holiday meal.
"It really is with pleasure that I make this announcement," said Mona Golub at a press conference at Westgate Price Chopper in Albany on Thursday, Oct. 20.
Golub said Price Chopper decided to donate the entire turkey load so that Equinox, Inc. could concentrate on the services it provides year-round.
"Price Chopper Supermarkets has had a very long relationship with our friends at Equinox, having donated over the years to support the vital programs that they offer to those victims of domestic violence as well as disenfranchised youth here in our community," said Golub. "We'd like to see them focus their time on providing those vital services and programs."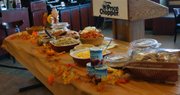 Kathy Danner, executive director of Equinox, Inc., said the organization appreciated Price Chopper's generosity and support.
"We all know that the Price Chopper Golub Foundation has been very active in supporting community organizations throughout the years and is a vital part of our community," said Tanner. "They're a homegrown business just like we're a homegrown organization."
Equinox, Inc. provides a Thanksgiving dinner at a community location or delivers them to homes of people who wouldn't have one otherwise. It relies on scores of local volunteers to help prepare, assemble and deliver those meals.
Price Chopper has contributed to the Equinox Thanksgiving Day Community Dinner for years but this is the first time it has shouldered such a major necessity of the dinner and marks the largest single food donation to the dinner that Equinox has ever received.
"Price Chopper has been a longtime supporter of our thanksgiving dinner tradition where the community comes together to make sure that everyone has a meal on Thanksgiving," said Tanner.

(Continued on Next Page)
Prev Next
Vote on this Story by clicking on the Icon