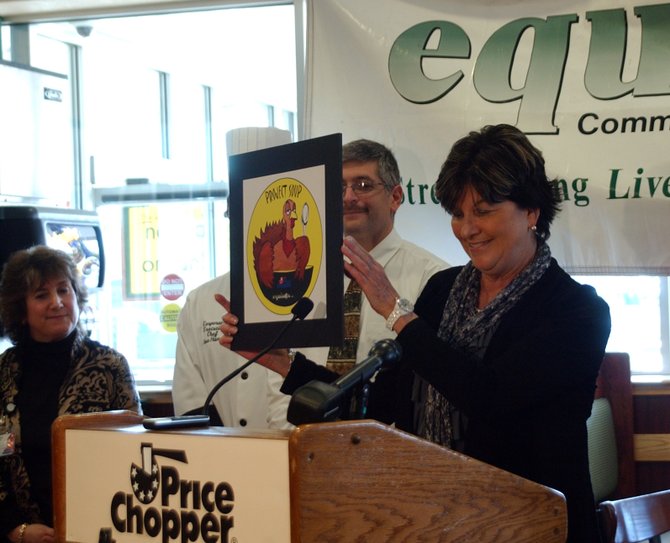 continued — Price Chopper is also sponsoring a new initiative for Equinox, Inc. called Project Soup. All the excess meat, carcasses and bones from the Thanksgiving turkeys will be turned into a turkey soup for food distribution sites to serve the day after Thanksgiving.
"This is a recognition that people are hungry, not only on Thanksgiving, but throughout the year," said Tanner. "Project Soup will feed people with a nice, hearty turkey soup after Thanksgiving."
Price Chopper will donate gift cards and recipes to participating kitchens to help in soup preparation.
The idea for Project Soup began bubbling around Thanksgiving last year after a conversation between Golub and her father, Neil.
"What happens to all the turkey carcasses and bones and meat after the dinner? We came to find out that … Equinox had a plan and all the bones were turned into biofuels," said Golub. "We thought, 'Hmmm, I think there's another meal to be had out of this' and started trying to strategize how the carcasses of all these turkeys could be used to produce another meal."
The logo for Project Soup was created by teenagers who take advantage of Equinox's afterschool program.
"We gave them the assignment of the logo to the teens who come in everyday and this is their artwork," said Tanner.
Thanksgiving Eve kicks off Equinox's giving spree when staff, volunteers and Price Chopper officials gather at the Empire State Plaza on Wednesday, Nov. 23, and finish carving the turkeys. Neil Golub, Price Chopper CEO, also demonstrates for volunteers how to properly carve the bird.
Vote on this Story by clicking on the Icon