Saratoga — Chloe Sova, 9, lives next to an old lumber mill in Middle Grove. And every Halloween, her parents pull out all the stops to transform that lumber mill into a spooky haunted house.
"It's very scary. We do it every Halloween," said Chloe Sova. "It takes a lot of work and I'm out there every time my dad is."
The haunted house started years before she was born as a fun tradition for family and friends. After Chloe survived a near-fatal heart condition, though, her parents saw a chance to give back to the institution and doctors that saved her life.
"We started using it as a fundraiser. All the proceeds go to Albany Med," said Kim Sova, Chloe's mother. "Chloe will always know that everything she achieves in her life will be due to Dr. Devejian, her surgeon, and all the other doctors and nurses at Albany Med."
Sova said the $5 admission price is a steal.
"It's out of control, so professional. I'm so impressed every year," said Sova.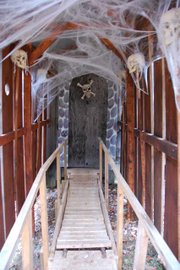 Eleven months of the year, the old lumber mill is used as storage space. But starting in September, Sova's husband and a friend begin the process of emptying it out and creating the framework for the haunted house.
"They build all these different hallways. …a handful of little rooms and each room has a theme," said Sova.
The entire house has a different theme, too. This year, a real estate agent is trying to sell the house, even though it's haunted.
"I've heard a lot of people say it's the best one they've been in," said Sova. "The people that have been coming over and over, they are our regulars, they get psyched because they know it's a whole different thing [each year]."
There's a "pitch dark maze" at the center of the house, rooms with obvious exits, a secret door hidden by a bookshelf and about 13 friends who serve as "scarers."
(Continued on Next Page)
Prev Next
Vote on this Story by clicking on the Icon