continued — "It's really artistic and very scary," said Sova.
Since she's the reason for the haunted house turned charity, Chloe helps as much as she can.
"I help staple wood to the floor of the barn and the ceiling of the barn and put up smoke machines and hang up things and zombies and stuff," said Chloe. "It's fun to do because when I get home from the bus sometimes my dad is already out there working on it so I just bring my stuff in and go help."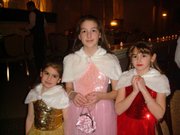 Her sisters, Haley, 10, and Marie, 8, also help out each night.
And though she's not actually in the haunted house, just ushering tour groups back and forth, Chloe has a frightening costume of her own planned for trick or treating.
"I'm going to be a dead princess. … Last year I was a princess but not dead and this year I wanted to be scary," said Chloe. "I have a big red dress and I'm going to have a pretty bracelet that's red. My face will be painted white and [I'll] put black scars on my face."
The event has grown each year and in about five Halloweens has raised nearly $2,300.
This year, local businesses got involved and donated coffee, donuts, candy and cider for people to enjoy while they wait for a turn through the house. There will also be a bucket raffle with donated gift certificates and gifts and old fashioned horror movies will be projected in a tent.
Chloe said she likes using a fun holiday event to give back.
"I think that it's good for the people that need the money that we get," said Chloe. "They saved me so I want to save some more people."
Kim Sova said she's worked hard to instill the value of saying "thank you" and paying it forward in all three of her daughters.
"That's the most important thing we wanted to instill in them, infinite gratitude," she said.
People can brave the haunted house on Oct. 28 and 29 from 6 to 10 p.m. at 199 Young Road in Middle Grove.
Vote on this Story by clicking on the Icon