Saratoga — Amanda Daley was the sporty one in high school, spending her time on softball instead of perfect hair and makeup.
But now, the 20-year-old Clifton Park native is ready for a change.
"This is my first pageant. I've always wanted to do something like this," said Daley.
A childhood education major at the College of Saint Rose, Daley applied for the Miss New York USA 2012 pageant on a whim.
"I found the application online one day and applied," said Daley. "About a week later I got a phone call that they wanted to interview me."
One month later, she was sitting in an interview and shortly after found out she was accepted.
Daley will represent Clifton Park in the January pageant, competing against hopeful young women from around the state who are all vying for the title of Miss New York. Miss New York will participate in the nationally televised Miss USA pageant in June.
"You always hear about this one and know things about it. I just got into it because I thought it would be a great opportunity to meet new people and kind of build some self-confidence and make myself a better person," said Daley.
Contestants are judged in three areas—interview, swimsuit, evening gown—and criteria includes character, poise, confidence and pseronality, according to the pageant website.
Daley has been raising money for the charity she's representing, St. Baldrick's Day Foundation, which benefits children's cancer research.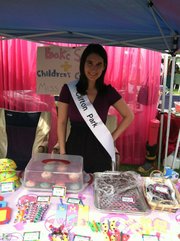 "I found out about this charity at my college last year, we were raising money for it, and I thought it was a great charity so I wanted to do more for it," said Daley. "Not many people have heard of this charity but its cause is very important."
Daley is holding a bake sale on Saturday, Oct. 29, at Artique by Poncho's at Exit 8 from noon to 4 p.m. All the money from the bake sale will go to St. Baldrick's and a portion of Artique's proceeds for the day will help sponsor Daley.
(Continued on Next Page)
Prev Next
Vote on this Story by clicking on the Icon