continued — "How are people using less energy, whether in transportation or in the home or in eating more local food?" said Gibson. "There's a lot of educational stuff on there about how to do specific things."
When you hear "energy efficiency" you don't always connect that to "local food," said Gibson, but they're closely related and will be a focal point of the site.
"A lot of people ask me, 'Why food?' Because, the typical family uses more oil in food than in transportation or in their home," said Gibson. "We have a lot of control over that. We can actually grow food in our backyard, we can't grow oil in our backyard."
Visitors to the site are encouraged to sign up as members. It's completely free to join and members are given access to all portions of the site, like forums.
Forums are a piece of the site Gibson hopes will be especially useful to users because they thrive on back-and-forth discussion.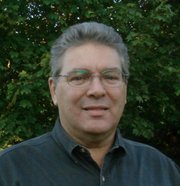 "You'll meet people throughout the community who have a similar interest in saving energy as you do. That's important," said Gibson.
Once the site attracts about 300 members, Gibson expects the forums to really bloom.
"Forums are … one person expressing an opinion or asking a question and other people get to respond and it's much more equal footing [than blogs] to respond and contribute," said Gibson. "Forums, I think, will be a big part of the website not too far down the road."
The Kids Korner is another component that was important for Gibson to include.
"It will be about kids, by kids, for kids. So far I've gotten my daughter to write one article about her baking solar cookies and cakes," said Gibson.
Gibson wants school districts to collaborate with the site to create a section for sharing student projects and initiatives.
Vote on this Story by clicking on the Icon