SCOTIA — Wooden nickels returning back home spurred an event showcasing one village's history.
Diana Bennett, executive director for the Scotia-Glenville Traveling Children's Museum, said in April she received an unexpected letter in the mail addressed to the museum. The letter was from California resident Wayne Marsh, but he knew exactly where he was sending it because he grew up in Scotia.
Upon opening the letter from across the country, Bennett saw six wooden nickels, which were made in celebration of the Village of Scotia's jubilee, or 50th anniversary, in 1954 as an incorporated village. The wooden nickels, which she described as thin and square, she believes were purchased by people and could be kept or cashed in.
"They are like miniature dollar bills," Bennett said about the celebratory nickels. "It inspired us to think about people really enjoying to see the old pictures of Scotia and there is a lot of memories here."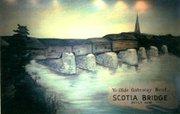 The museum will hold the event "Dear Old Scotia" at the Glen Sanders Mansion on Thursday, Nov. 10, from 7 to 9 p.m. There will be an array of historical attractions, such as seldom-seen historic photos of the village and a local storyteller sharing insight into many lesser-known facts lost in history. The event is also named after a local author Alan Hart's book under the same title. Hart, a former sportswriter for the Times Union, has written several books relating to Schenectady County and is being featured as a special guest of the event.
A silent auction to benefit the museum will also be held during the event as attendees are treated to "retro" food stations as a DJ plays music from the '50s, '60s and '70s to complete the atmosphere.
Bill Pytlovany, museum board member and webmaster for VisitScotia.com, has the rarely seen photos and is bringing them out to the event. Bennett said including Hart along with the photograph showcase was an easy connection.
(Continued on Next Page)
Prev Next
Vote on this Story by clicking on the Icon