continued — "We put the two together and thought, 'wouldn't that be a fun thing to celebrate?'" she said. "There was a celebration in 2004, but people are still hungry."
Pytlovany echoed her comments and said interest in Scotia's history is still strong.
"In the past few years, there has been a tremendous surge of interest in the history of the Village, not just from the early settlement days, but also about how much has changed from the 1960s and '70s," Pytlovany said in a statement. "This event will be a great opportunity for folks to reminisce about the stores where we shopped, the schools we attended, the cars we drove and the friends we made."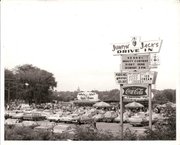 The recent flooding, Bennett said, led some people stop and take a look to appreciate what the village has to offer. She said people learned not to take things for granted, such as Jumpin' Jack's, which was built in 1952 and was underwater during the floods.
Some things have changed over the years, but she said Scotia hasn't lost its character.
"It is a real community here and you can see how it was through the years. A sense of community is obvious in the old pictures and that is still there today," Bennett said. "There aren't too many villages upstate where you can walk to everything."
She said the old photographs do show differences from the village today, but residents easily identify many of the locations and buildings.
"It seems that it has kept up with the times, but retained its original routes," she said. "They didn't knock down buildings to widen the road or put in a mall, which other surrounding communities experienced."
She said she's mostly looking forward to people coming out to the event and reminiscing with one another about their past and the area's history.
Tickets for the event are $35 per person and reservations must be placed by Nov. 7 by either calling 346-1764 or sending an email to dbennett@thetravelingmuseum.org. Attendees will even receive their own custom-made wood nickel in honor of the event.
But at least one of the new wooden nickels has a long journey ahead of it.
"My plan is to send one of the wooden nickels to Mr. March … to show what he inspired," Bennett said.
Vote on this Story by clicking on the Icon