BETHLEHEM — You've probably heard someone say it before, or maybe said it yourself: Seriously, another bank?
In the Town of Bethlehem, and especially on the Delaware Avenue commercial corridor, this is something of a perennial cry every time banking news come up, be it in letters to the editor, online discussions or old-fashioned coffee shop talk.
In the Delmar area, a cursory search reveals six banks clustered near Delaware Plaza at the east end of Delaware Avenue. Another three full-fledged branches are near the Four Corners, a little more than a mile away, and there are more to the west and east in Slingerlands and Glenmont.
In a meeting of the town's Development Planning Committee last month, Bethlehem's Director of Economic Development and Planning Michael Morelli said his office hears from residents about the density of banks. At the time, he was talking with owners of the Price Chopper Plaza in Slingerlands about their thoughts for a new standalone bank there (no plans have been formally submitted yet).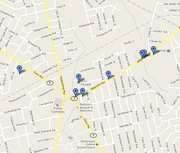 In a recent interview, Morelli said there are indeed a good number of banks in Bethlehem.
"It's really based on a market economy. In a free market economy, if a use is permitted and they meet all the local laws and regulations, they can build," Morelli said.
Banks are listed as a specific use in the town's zoning code, but they're generally free to locate in commercial zones just like any other business. The biggest planning obstacle for most branches is the construction of drive-through lanes, which sometimes draw the scrutiny of planners.
So why are there as many banks as places to get a cup of coffee? According to Trustco Vice President Kevin Timmons, the answer is simple.
"The branches are being put in spots where the banks think there is business to be had, just like McDonald's, Dunkin Donuts, or Price Chopper or whatever," Timmons said.
(Continued on Next Page)
Prev Next
Vote on this Story by clicking on the Icon