continued — Trustco has a branch near Delaware Plaza, and Timmons went on to say there is a roughly $900 million deposit base in a 3-mile radius around that bank branch.
"For Upstate New York, that's a pretty good showing for that size of a market," he said.
In other words, Delmar's residents are reasonably affluent, which is good for business of any sort but banks in particular.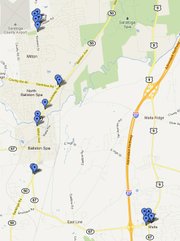 Delaware Avenue is also a busy stretch of road. Thousands of vehicles pass through this corridor on their way to or from the city every day, and some of them are naturally going to need to stop off at the bank.
Karl Johnson, vice president at Pioneer Savings Bank, said his company has branches in Glenmont and Delmar because that's a convenient structure for many customers.
"Now they can bank in both places, where they work and where they live," he said. "You want to be situated in an area where there's a movement of people. ... Location is very important."
And while commercial activity has been sluggish for years, banks are still kicking. Trustco Bank recently opened a branch in Glenmont at what used to be a Hollywood Video store, putting that vacant storefront back to use.
Berkshire Bank is undertaking the only bank project under way right now in the Town of Bethlehem. The bank is building at the location of the former Saratoga Shoe Depot at Elsmere and Delaware avenues. This isn't a new branch, though. Berkshire will be relocating from within Delaware Plaza to the more visible location.
That's a win for the town, said Morelli.
"I think that Berkshire Bank, it's a real credit to them that they've made a commitment to invest a lot of money on that corner, and it will look nice when it's done," Morelli said.
And no matter what one thinks about Delmar's banking landscape, it's not particularly busier than in other high-traffic areas of the Capital District. On Rotterdam's Altamont Avenue area, there are eight banks lined up in the space of a few miles. Even the relatively tiny Town of Milton has five standalone branches downtown.
"I can certainly appreciate that observation," said Johnson on the clustering of banks. "There are a lot of banks in the area, but I think we're all coming here for the same reasons: because the market is very attractive."
Vote on this Story by clicking on the Icon