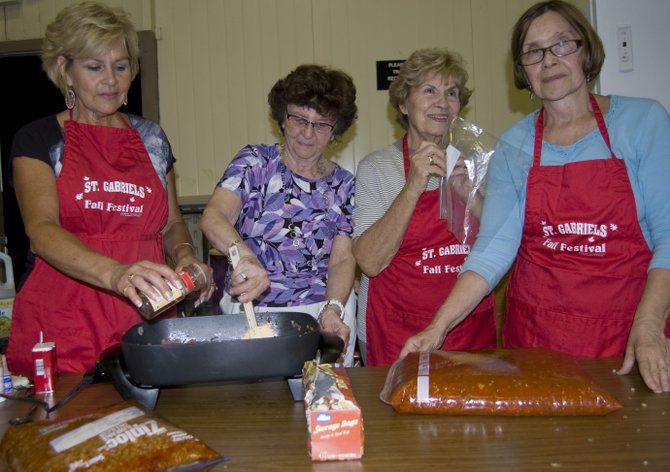 ROTTERDAM — As the summer nears an end and the air starts to chill, parishioners at St. Gabriel's Church want to warm you up with homemade food and a festive atmosphere.
Cooking is well underway for St. Gabriel's Fall Festival kicking off on Friday, Sept. 16, and ending on Sunday, Sept. 18. The church, located off Curry Road on Hamburg Street in Rotterdam, will have a bounty of food, baked goods, rides, games for children and live entertainment each night for the event. This is the fourth year the church has hosted the festival and parishioners are betting on a successful event. The times vary with Friday, Sept. 16, running from 5 to 9:30 p.m.; Saturday with the longest hours from 3 to 10 p.m.; Sunday will start earlier at 2 p.m. and end earlier at 7 p.m.
"The first year it was kind of quiet … but last year we were swamped," said Joanne Russell, chairperson for the festival. "It has grown each year. It has gotten busier and busier."
The festival started out only doing two days, but the second year it added Sunday. For the most part, said Russell, the festival will be fairly similar to previous years. There are a few new food items though, such as greens and beans. All the food is stored in freezers, which total 13 around the size of a refrigerator with some smaller half-size units.
The quantity of food can also reach staggering numbers.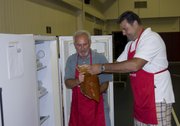 "Last year we went through 350 pounds of sausage," said Russell. "Last year we made like 2,500 meatballs."
What she enjoys about the event is bringing the community together and also bringing church members together.
"I love seeing all the people here and people coming together as a community," said Russell. "We have so many people that help. It brings so many of the parishioners together … you are working with these people for like eight to 10 weeks and they are here hours upon hours."
(Continued on Next Page)
Prev Next
Vote on this Story by clicking on the Icon