SCHENECTADY — The Capital District is known for a number of things, but being home to one of the world's finest pipe bands probably doesn't come to mind first for most people.
The Albany based Oran Mor Pipe Band is ranked as the 14th best pipe band in world after the World Pipe Band Championships in Glasgow, Scotland, on Aug. 13. Andrew Douglas, a Schenectady resident, leads the bag pipers in the band and fellow Schenectady resident Eric McNeil is the drum sergeant. The 29 member band's performance was featured on BBC Scotland and BBC's website. Also, the band competed in the Grade 1 finals for the first time, which is the highest level.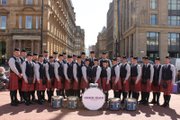 "We do a lot of competitions, this is obviously the biggest one, it is definitely a thrill when the band is going well like it was this year," said Pipe Major Andrew Douglas. "The bagpipes have a really amazing sounds, especially when it is played properly. I don't think it is paralleled by any other instrument. It is a very expressive instrument that has a lot of potential for great music making."
Also, while the band was in Scotland it finished second at both the North Berwick Highland Games and the Bridge of Allan Highland Games. Band members got the chance to play at the Piping Live Festival in George Square and at the National Piping Centre too.
"We're competing with the best bands in the world, and doing so on their own turf," said Douglas, a 26-year-old. "Our members combine strong fundamental skills with a dedication to spirited music-making. Each year, we take it to an even higher level, and I can see Oran Mor placing even higher in years to come."
The band was founded in 1992 in Central New York, but since 1997 its operated out of the Capital District and practices at the Celtic Hall in Colonie. Douglas said the area is one of the better places to be for experienced and talented bagpipers.
(Continued on Next Page)
Prev Next
Vote on this Story by clicking on the Icon