Saratoga — The Yaddo Mansion is veiled in secrecy.
Visitors of the infamous Yaddo Gardens can gaze at its looming majesty as they admire the fountain that marks the end of the great lawn, or catch a glimpse through the leaves of the clustered trees as they drive away along a winding path.
But that veil will be lifted for one day when mansion tours are given on Sunday, Sept. 18, the first time the public has had access since 1993.
"There's still a lot of interest in the house. We stopped giving tours because it takes a lot of time," said Lesley Leduc, public affairs coordinator.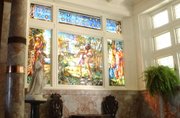 Behind the ornate stone walls and turrets, beyond the expansive and perfectly manicured lawn, lies a world stuck in the days when owners Spencer and Katrina Trask wandered the halls.
The Trask's books line the bookshelves, dusty and categorized. Furniture fills the music room, the drinks room and common areas that the Trasks and their parade of guests sat on. There's artwork and souvenirs from frequent trips abroad and family portraits dot the walls, an artistic reminder to the mansion's current guests of why they're there.
"It's not a museum but it's pretty much like the way the Trasks had it," said Leduc.
As was typical for the Trask era, the dining room is still a central part of the mansion. The chairs that surround the darkened oak table are carved with knights, relics of Katrina's affinity for the age of chivalry. Katrina's jeweled coronation crown sits in a cabinet above precious silver, a punch bowl made by Tiffany Studios and other trinkets.
"I think it sort of has a special meaning to most of the guests who come to Yaddo because you eat dinner and breakfast together here and it's when they make friendships. Sometimes conversations lead to a collaboration at some later point," said Leduc, who said as many as 34 artists take meals together. "There are older artists, younger artists and they feed off each other's energy."
(Continued on Next Page)
Prev Next
Vote on this Story by clicking on the Icon