continued — A chef and full kitchen staff nourish the resident artists, working out of one of the mansion's only rooms to receive significant upgrades. Down a short corridor from the dining room is a common space with a basket for mail, a sign up sheet for taxi service to town, the day's menu on a chalkboard and along a counter, lunch bags lined up to take to the art studios.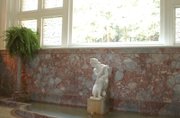 Curious tour groups will enter the mansion through the front door (commonly assumed to be the back of the house). The bright foyer is home to a fountain that aligns perfectly with the main fountain at the end of the lawn (I like to call it Katrina's early feng shui, said Leduc) and boasts a breathtaking Tiffany stained glass window designed by Katrina (one of the largest in the house).
"It's based on a story that Katrina wrote about the Native Americans that first settled this piece of property," said Leduc. "The glass is pounded in from behind to give it depth."
Many people think the clear, leaded glass window sandwiched between colored glass on the adjacent wall is a replacement from a broken window, but that's not the case, said Leduc.
"It was always clear because the circle of trees outside the window, when they weren't so big, functioned as a natural sundial," said Leduc.
Flanking the entryway are two sleighs gifted to the Trasks from the Queen of the Netherlands. There's a rumor one sleigh took a trip down the grand staircase after a night of drinking, said Leduc, but she doubts the sleigh or its occupant would have come out in one piece.
Some tour groups will tour the downstairs first. They'll admire the woodwork carved by Italian artists (Katrina was fond of cherubs and angels) and will walk by the floor-to-ceiling window facing the lawn (that opens like a door with a pulley) to get to the music room.
Vote on this Story by clicking on the Icon