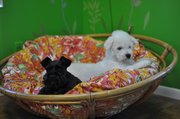 continued — The resort already hosted a pair of dogs as boarders and Kennedy said they seemed to enjoy themselves just fine.
"We had a couple dogs in Hawaii and they were laying there together and enjoying the bed. They were quite happy there," said Kennedy.
Dogs get walked on a leash outside instead of free-for-all run around time. Dogs also get a little playtime in the daycare area during the day. And while "guests" have access to a play area, dogs who aren't boarding can take advantage, too.
Kennedy said Pink Dog Parlor offers Doggie Playcare, which is open to small and medium sized dogs who are spayed and neutered and older than four months. Playcare is new, just beginning in September, and it's divided into three levels based on energy level with no more than 10 dogs per day. There's an indoor playground, morning and afternoon snacks, water and outdoor walks.
Pink Dog Parlor has grown substantially since it got its start out of Kennedy's home in 2005. After adding a grooming school, retail space and staff, the store's latest move (it's right next door) is a jump from 1,300 square feet to 8,000 square feet.
"Our offerings have increased. We moved into the boarding and day care and we have a self serve dog wash for people who want to bathe their own pets," said Kennedy.
Each service offered at Pink Dog Parlor, from the grooming to the boarding, is individualized and catered to the specific needs of the pet, said Kennedy.
"We try to cater to what the people are looking for and live with in a haircut for their dog versus just a standard haircut," said Kennedy. "I've worked with a lot of groomers over the years … we don't take the cookie cutter approach. These pets are pet dogs, they're not show dogs."
Vote on this Story by clicking on the Icon