SCHENECTADY — The water may have receded from flooded neighborhoods, but the recovery process has just begun.
Walking down riverside streets in the Stockade Historic District in Schenectady on Friday, Sept. 2, revealed piles of ripped out floorboards, furniture and other items destroyed by Tropical Storm Irene in front of homes. Water was still being pumped out of basements and trails of Tropical Storm Irene could be seen throughout the community. Residents in the Stockade know what destructive power flows in the Mohawk River, but recent flooding served as a reminder.
Photo Gallery
Stockade after Irene flooding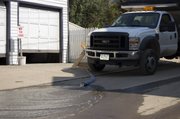 Stockade Historic District residents clean up flood damage after Tropical Storm Irene left the area and floodwater receded. The remnants of debris from the flood could be seen throughout Riverside Park in the Stockade on Friday, Sept. 2, as nearby residents piled up damaged items outside their home.
At the bottom of Ingersoll Avenue was Stephen Boese cleaning off a container with a hose. The house he's lived in with his wife, Cathy, for four and half years, had flood water up to the first floor windows.
The day after floodwaters pulled out of the neighborhood, he returned to assess the damage.
"We pretty much lost everything on the first floor of our house," said Boese. "We got all the walls torn out and we are working on drying out the downstairs. We lost a lot, but we are doing well in terms of cleaning up and rebuilding."
Boese hired someone to do "heavy duty" work at the home, but he has had a neighbor also help him out with some of the lighter work needed. Although, he was glad to see the water didn't rise as high as predicted and his home was still standing.
"When we left the forecast was that the water would be so high that we would lose everything," he said. "We just fit what we could manage to put in the cars and we left, so I was glad the house was still standing and we got repairable work here and repairable damage. It is going to take a long time."
While he knew it was possible for floodwaters to reach into the Stockade, he didn't expect anything like the recent flood to happen.
(Continued on Next Page)
Prev Next
Vote on this Story by clicking on the Icon