continued — "I knew it was possible, but I didn't think it was that probable," he said. "It was probably the second worst flood in Schenectady history. The last time Erie Boulevard was the Erie Canal … I think it was a bit of a surprise that it hit so bad."
For now, Stephen and his wife are living on the second floor of their home until repairs are completed.
Midway down Ingersoll Avenue, up the street from the Boeses, was Peter Nicodemi, a 73-year-old, carrying flood-damaged items out of his house. His wife, Eileen, remained inside.
The damage at Nicodemi's house was less severe than what Boese was facing.
"It is not that bad. We cleaned a lot of stuff out of it," said Peter Nicodemi. "We are getting there."
The second floor of his home is an empty flat, so like many Stockade residents he moved items up to the second floor. The bedroom set and dressers they couldn't move before the flood, so
Photo Gallery
Irene floods Schenectady County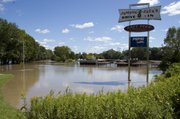 Schenectady County felt the brunt of a surging Mohawk River on Monday, Aug. 29, as flooding consumed parks, homes and roadways.
"The city pumped the basements out and then we have a sump pump and we just let it run," he said. "The basement is already starting to dry up … there wasn't too much mud in the house because that brand new carpet and the backing is real thick so it sucked it all up. When we pulled it up there was hardly and mud on the floor."
He said he couldn't shed enough praise on the city for the job they did helping him out. The total damage he couldn't put a monetary value to yet.
"They said whatever you people need we'll do," he said. "They even went in the cellar and took a lot of the stuff out and they don't usually do that."
Even without a flood, he said the street commonly has neighbors helping out each other.
"This street is unique, because everybody helps each other," he said.
Vote on this Story by clicking on the Icon