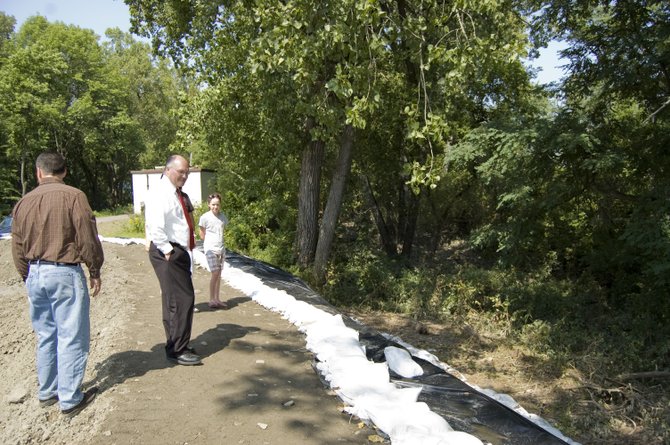 Niskayuna's water plant was in danger as the Mohawk River rose during Tropical Storm Irene, but town employees devised a plan to prevent damage.
Town officials started mobilizing town employees around 6 p.m. on Sunday, Aug. 28, after initial reports came in on possible flood levels following heavy rain. There were six dump trucks, front-end loaders, excavator and bulldozers at the town's water plant working into the night. There was another crew stationed north of plant at the town landfill with an excavator and a front-end loader to gather dirt for the circular barrier.
"Initial reports we were getting was it was going to be 7 to 8 feet above the 100-year flood, which was over those windows (four inches above)," said Supervisor Joe Landry. "There is no way we could have built a berm as high as that building … we were able to accommodate the modified numbers."
The 100-year flood is a way to rate the probability of a flood reaching a certain level, which is once every 100 years. Although, this doesn't mean the flood level can't be reached more than once in 100 years.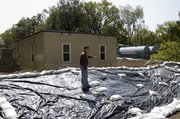 Town employees worked long hours, maxing out at 18 hours, said Matt Yetto, a civil engineer for the town. Highway Department employees teamed up with Water and Sewer Department employees to prevent flood damage.
"At one point we had everyone in the Water and Sewer Department working either at (the water plant) or preventing flooding in the sewer system," said Yetto.
The berm around the plant took around 15 hours to build after Superintendent of the Water and Sewer Department Richard Pollock designed the plans.
"At one point when we were doing the sandbags you looked and you just saw a sea of green, everyone was wearing a green shirt," said Yetto. "Everything seemed to go very smoothly and well organized."
(Continued on Next Page)
Prev Next
Vote on this Story by clicking on the Icon