Saratoga — Debbie Kump has a "futuristic" imagination and created what she thinks could happen if technology essentially overloaded and destroyed the world.
"My husband is a futurist and likes to come up with ideas for things that might possibly happen later on … he said wouldn't it be neat if we had contact lens computers," said Kump.
That passing comment, made during a TV upgrade, grew into "7G," an apocalyptic thriller and Kump's first published novel.
"It becomes a disaster and ends up giving people cerebral hemorrhaging … the world became so dependent on technology it was destroyed by that technology itself," said Kump, an '89 Burnt Hills-Ballston Lake High School graduate.
"7G" has only been out almost a year but Kump is already working on a sequel where the characters figure out how to survive in an environment where everything and everyone they'd known and loved is gone.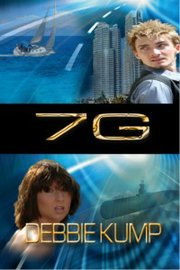 "It's a challenge at first because you have to think about it in terms of everything we do right now on computers and cell phones and it's all involved in these contact lenses they access through their eyes," said Kump. "I had to think so many times and change my book … sometimes I feel like I live in an alternate reality; I get so wrapped up in my books that I kind of forget where I am but it helps get the ideas out."
The action of "7G" got Kump hooked on writing thrillers of all types, like the supernatural thriller she's also in the middle of writing.
"This book is totally different. It's a young adult supernatural thriller, fast paced from paragraph one. I like that writing style; I really like action packed movies so it seems like that whole excitement and constant tension … has found its way into my writing style," said Kump.
(Continued on Next Page)
Prev Next
Vote on this Story by clicking on the Icon