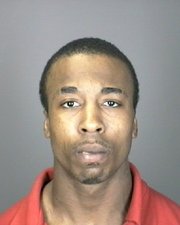 COLONIE — A car chase turned foot chase ended with four Colonie police officers injured this morning after the suspect ditched his car after getting into an accident, according to Colonie police.
Police received a call from a resident at 39 Omega Terrace that John O. Francois, 22, who was identified as homeless by the Colonie Police Department, was allegedly at his home and trying to make his way in with a handgun. According to Colonie Police Lt. Robert Winn, Francois and the victim worked together in making music and had an ongoing dispute over the ownership of music equipment and recording material the suspect believed to be his.
"It was an ongoing business dispute over recording material the person felt belonged to him," Winn said. "He chose to show up there with a handgun to retrieve it."
When an officer arrived at the home, he saw a vehicle leaving the residence with a man that fit the description of the suspect driving it. According to the report, Francois refused to stop for the officer and led him on a chased that went down Interstate 87, over Interstate 90 and ended in the city of Albany after the suspect crashed into a guard rail at 609 Central Avenue. Francois did hit two marked police cars before hitting the guard rail, only causing minor damage, according to the release.
According to the release, the Francois got out of his car and fled on foot before getting brought down by police in front of 86 Hunter Ave. The chase did end up hurting four officers as Winn said they misjudged a wall they jumped down to pursue Francois.
"They're running at a high speed during an active foot pursuit of the subject," Winn said, adding the drop was between 4 to 6 feet high with a guard rails that could add another foot and a half. "They didn't realize it was such a big drop."
(Continued on Next Page)
Prev Next
Vote on this Story by clicking on the Icon