continued — The officers were taken to Albany Medical Center Hospital for treatment. Those that were injured are Patrolman Patrick Germaine, with 21 years of service, suffered from an ankle and foot fracture, Patrolman Eric Gansle, a 16-year veteran, suffered a wrist and rib injury and was released, David Mink, a 4-year veteran, suffered an ankle and knee injury and was released, and Patrolman Robert Laliberte, a 22-year veteran who suffered a leg injury was released.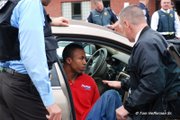 Francois did suffer a "very minor" cut to his lip, which he refused treatment for.
Francois has been charged with burglary in the first degree, a felony, reckless endangerment in the first degree, a felony, unlawfully fleeing a police officer in a motor vehicle in the third degree, a misdemeanor, menacing in the second degree, a misdemeanor, resisting arrest, a misdemeanor and unlawfully dealing with fireworks, a violation.
According to the press release, Francois is expected to be arraigned this evening in Colonie Justice Court.
Vote on this Story by clicking on the Icon