ROTTERDAM — Pine Grove Fire Department in Rotterdam is running out of space and fails to meet regulatory requirements at its 40-year-old facility, but they're hoping the public will support its plan.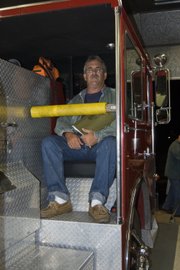 The station was built in 1970 when equipment and fire trucks were very different from modern standards. Inside the building there are often tight spaces firefighters have to navigate as they suit up. The building's existing truck bays can't safely accommodate fire apparatus to meet the current National Fire Protection Association codes and standards. The roof was repaired several times in the past and the department is now looking to replace it. Also, the community room used to be a polling location, but the ramp is no longer ADA approved. The total cost of the project will not exceed a proposed $3.5 million bond to be paid over 25 years.
"We are out of space and times have changed in what it takes to be a fireman," said Fire Commissioner Herb LeTarte III. "The best use of taxpayer dollars was to go for this bond. If we'd tried to fix what we have we would be kicking a can up the street."
Currently, the building is scheduled for over $1.1 million in repairs over the next three to five years, but LeTarte said this is only a short-term solution to its problems. The expansion would include a fire truck bay, which could house four trucks, a work room would be added inside of a lobby area. The community room would also be moved and separated from the emergency operations and important files would be properly protected.
Making sure the fire fighters stay safe and can operate efficiently is the focus of the project, said LeTarte.
"Right now we don't have a shower in the building, so when you go to a fire and get the carcinogens all over you what you are supposed to do is come back, throw your turnout gear in a washer and dryer made for turnout gear because it ways so much, but we don't have the space to put it," said LeTarte.
(Continued on Next Page)
Prev Next
Vote on this Story by clicking on the Icon