continued — Right now much of the gear is visibly soiled, but he said with a consumer dryer donated to the department they only can wash one coat at a time.
Fire trucks, as they become more modern, have gotten longer. This has reduced the amount of space in the station and he said there is no place to clean anything. He said firemen used to just ride on the back or sides of the truck and hold on tight, but now all firemen are requirement to be housed inside the vehicle. Older trucks the fire department has were grandfathered in even though they don't meet modern requirements.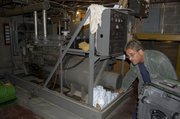 The flooding slightly changed the plan, but not the overall cost. The a new generator would be purchased, to replace the old generator from around the 1940s, and placed upstairs out of harms way from the flood. All the utilities, which are downstairs, would be moved upstairs. A lot of records, which were downstairs on a lower shelf in the storage room were lost during the recent flooding.
"We lost a lot of records. These are our vital records … but we lost several of our vital records," he said.
The estimated cost impact of the project, according to the department, would b e a tax levy increase of 0.77 percent Rotterdam residents served totaling an estimated tax increase of $154 for the average home assessed at $200,000. The department also serves Princetown and Guilderland residents.
Also, another helping hand is always welcome at the department.
"We still only got 32 guys, which is what the department started with in 1933," said LeTarte. "We are always looking for new members."
Anybody interested in being a volunteer fireman at the department, he said, can stop down at the station located on Dunnsville Road, in Rotterdam.
Vote on this Story by clicking on the Icon