GLENVILLE — Two towering, twisted and charred metal beams from the World Trade Center shadowed the local ceremony honoring the victims of 9/11 and the perseverance of a nation.
The Waters Edge Lighthouse in Glenville hosted its fifth annual 9/11 ceremony on the 10th anniversary of 9/11 after overcoming flooding from recent tropical storms. The monument, displaying remnants salvaged from ground zero, was obtained by Pat and Karen Popolizio, owners of the Lighthouse, and Pat Popolizio along with John Wells, president of Wells Nursery, designed and constructed it. Local representatives shared their reflections on how the nation has moved past the tragedy and how the American spirit wasn't quelled.
Wounds of lost family members and friends might still be healing, said U.S. Rep. Paul Tonko, D-Amsterdam, but the acts of bravery from first responders and citizens also shine out.
"Ten years has done nothing, nothing, to dim the memories of loved ones lost and has done nothing to take away the raw pain we all felt that day," said Tonko. "We recall the acts of bravery as the everydayacts of heroism were showcased — here the world saw the brave men and women of the response community from firefighters to police officers to emergency responders. We witnessed people risking their own lives and giving their own lives so that others could be saved."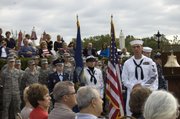 On 9/11, Tonko said, people were reminded of what is valuable in life. Also, it served as an inspiration, he said, as people joined together "under the banner of the American flag" to help one another and rebuild from the destruction.
"Yes, we recall that day. We remember the pain. We remember the anguish. We remember the tragedy, but yes we remember the comeback story," said Tonko. "This morning we reflect upon the causes that we embraced as an American people in response to that tragedy."
(Continued on Next Page)
Prev Next
Vote on this Story by clicking on the Icon