ROTTERDAM — Smiles got bigger and cheers got louder at the Rotterdam Democratic Party headquarters as primary election results rolled in on Tuesday, Sept. 13.
Primary results breakdown
For a list of Schenectady County 2011 Primary results CLICK HERE
The Schenectady County primaries solidified many lines for Democrats both in and outside of their party. Some Democrats in Rotterdam decided to split from the party, but the primary election didn't add any ballot lines for their general election quests. Except for one instance, with Rotterdam Democrat Kevin Mercoglan for RepublicanTown Justice, the town Democrats were able to secure all their bids in the Democrat, Conservative, Working Families and Independence lines.
Rotterdam Democratic Committee Chair and County Legislator Anthony Jasenski stood atop a chair and gave a victory speech after unofficial polling results displayed the party's victories.
"I can tell you today that it is not about being a Democrat. It is not about being a Conservative or a Republican … because people want our different parties to work together," Jasenski said during impromptu speech. "What you saw on the board tonight is evidence of that. They believe that this group, this team, can bring the things the need to governing the Town of Rotterdam."
Frank DelGallo had Democrat support during his previous bid for town supervisor, which is when he stepped into politics for the first time. When he sought reelection and town Democratic backing, including registering as a Democrat, the party voted to support Harry Buffardi. After left in limbo with no main party line support, he decided to form the independent party Rotterdam First, which will now be the only ballot line he holds.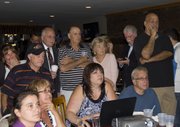 DelGallo wasn't dismayed at the primary results and said he is ready to focus on the November election.
"The primary means something, but it doesn't mean everything," said DelGallo. "You lose the battle that ain't the war, I'll keep fighting the war till I win it, but if the people don't want me anymore than they won't vote me back in."
(Continued on Next Page)
Prev Next
Vote on this Story by clicking on the Icon