continued — "Wow, I'm hanging in this harness really high up. Normal people don't do this. I wonder if I'm resting too long and they think something's wrong. At least my red knee socks look good. Okay, the faster I start squeezing the faster I'll be on the ground."
Photo Gallery
Spotlight goes Over the Edge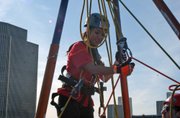 Spotlight reporter Alyssa Jung rappelled down the side of the Crowne Plaza in the Over the Edge fundraiser for the Special Olympics on Friday, Sept. 16.
With some random person cheering for me (and complimenting my red knee socks!) I managed to finish my rappel fairly quickly (at least that's what someone told me later) and without swinging and flailing uncontrollably like I'd envisioned. I survived!
Everyone told me I'd feel invincible and my adrenaline would be rushing when I reached the ground and I'd be itching to rappel again.
Not quite.
It was empowering to know I did it, since I'm terrified of heights. I was proud of myself for going through with it without mishap (though, if I didn't, I'd never hear the end of it from The Spotlight newsroom). And I was excited to share my experience and get the word out about the annual event.
Over the Edge challenges participants to raise $1,000 for Special Olympics for the chance to rappel down the side of the Crowne Plaza. From about 10 a.m. to 5 p.m. people dangle high above Albany and there was music and festivities throughout the day.
For information about this year's (and next year's) event and all the good works of the Special Olympics, visit www.facebook.com/OverTheEdgeAlbany.
Vote on this Story by clicking on the Icon