Saratoga — For animal lovers, the loss of a pet can be just as painful as that of a human. But in the same vein, that grief can also be a source of embarrassment and confusion for many pet owners.
Nobody understands that anomaly better than Jon Katz. The New York Times bestselling author of 22 books was deeply affected by the loss of his border collie, the first dog he got when he moved from New York City to Washington County 15 years ago.
"I got involved in sheep herding," said Katz, who left a job in television news production for the simpler life on Bedlam Farm. "…I never saw myself doing this and never set foot on a farm until I bought this one."
His first book, "A Dog Year," was based on that border collie and made into a movie by HBO. His subsequent books were novels about animals but never a non-fiction guide until "Going Home," his latest book to be released on Sept. 27.
"[It's] a book I wrote to help people who are dealing with grieving lost pets," said Katz.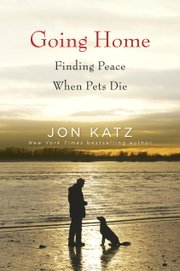 Katz didn't just throw his jumbled emotions over the loss of various farm pets into a book and hope the public related. He did research, talked to psychologists, consulted with veterinarians, contact humane societies and interviewed "hundreds" of pet owners who had lost a pet.
"A lot of people are grieving over animals and don't know what to do. I have helpful ieas about what people can do with their families, what to tell your kids, how you should talk to people about it and how you can remember your pet by photographs, drawing pictures with your family, setting up a website online, making a shrine in the backyard," said Katz.
Animals have always been the focus of his books but Katz said it's the right time for "Going Home" because pet grief is becoming increasingly common and apparent.
(Continued on Next Page)
Prev Next
Vote on this Story by clicking on the Icon