SCHENECTADY COUNTY — Reading and looking at artifacts is one way to learn about history, but one area artist is able to bring history alive through his paintings.
Len Tantillo has spent a good portion of his life painting, but he has put a unique focus on trying to precisely recreate historic scenes and landscapes.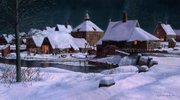 Tantillo's historical-themed paintings, with several pieces focusing on the Capital District, will be on display at the Schenectady County Historical Society's new George Franchere Education Center located a the Mabee Farm Historic Site. The opening reception is on Friday, Sept. 23, from 6 to 9 p.m. and his artwork will be displayed until Dec. 16. The reception also marks the first event and exhibition at the education center.
Ryan Mahoney, curator for the SCHS, said the desire to showcase Tantillo's work really started after the artist displayed his work last February at the Schenectady Colonial Festival. After the festival, said Mahoney, people were requesting to see more of Tantillo's work. The event is one of the biggest, "if not the biggest," event the society has put together, said Mahoney.
"For a long time we wanted to do a show with Len and highlight his work," said Mahoney. "His work really allows you to step back in time and get a vision of what this area looked like … it really brings history to life."
The historic scenes Tantillo paints are not just merely what "he thought" it looked likeong ago, said Mahoney, because Tantillo does research to depict accurate portrayals of a forgotten time. Mahoney said people are able to get an idea of their roots and the area's rich history.
"He researches every single detail as in depth as possible to create the most realistic vision in his paintings," said Mahoney. "It is easy to get lost in his artwork and the details of his artwork."
(Continued on Next Page)
Prev Next
Vote on this Story by clicking on the Icon