continued — For Tantillo, art is something has always been a passion.
"I think it is something that I have always been interested in," he said. "When I was growing up, there was never I time can't remember not drawing or painting. It is sort of a life-long fascination with art."
Growing up in New Paltz, he said he was always aware of history from the buildings surrounding him. Growing up in the Hudson River Valley also nudged him toward an interest in art.
After attending the Road Island School of Design he worked as an architectural designer from 1969 to 1976. Then he became a freelance architectural illustrator and in 1984 he left commercial art to work full time on his fine art endeavors.
Besides his works appearing in exhibits throughout the country, his work was also featured in September 2009 at the Westfries Museum in the City of Hoorn, Netherlands, and over 10,000 visitors attended the exhibit.
Tantillo said in Holland there is a small group of people interested in colonial Dutch history and the curator at the museum was familiar with work he was doing 10 years ago. The curator featured Tantillo's work in a commemorative American exhibit featuring the Henry Hudson expedition.
"I felt like a real celebrity over there," said Tantillo of Holland.
One interesting thing he noticed was the Netherlands has a similar culture to upstate New York.
"It is an interesting culture and they are different, but they is not a lot of difference, especially the Dutch," he said. "We still have this kind of residual bit of behavior from when the Dutch were here."
Still, he said he enjoys having a show in the Capital District.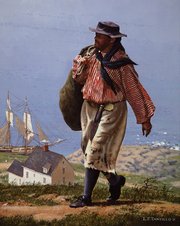 "I always enjoy an exhibition here in the Capital District because it is an opportunity to share my work with my friends and my neighbors," he said. "When I create the work I am thinking, 'those are exactly the audience that I am interested in' … I love the chance to be able to do the show here."
Vote on this Story by clicking on the Icon