continued — Slow Food Saratoga also sponsors farm tours where the public can travel from farm to farm sampling products and getting a glimpse at local food operations. The organization also hosts potluck dinners and fundraises to support a project of the international arm.
"We've done some fundraisers to raise funds to support Slow Food International where we sponsor a community garden in Africa," said Sconzo. "Basically, we want to expand ourselves to maintain a social event but expand to more activism to improve the outlook for good, clean and fair food in this area."
Arielle Landsberg, a new board member of Slow Food Saratoga, got involved because she "fell in love" with the region's culinary character.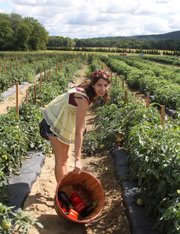 "I fell in love with the strong food culture of Upstate New York. I went to Piedmont, Italy last year where the movement started and saw that Slow Food had the potential to represent and promote the Capital Region's unique relationship with food," said Landsberg. "Mainly, that there are a large number of people who celebrate and respect local food producers and artisans."
Landsberg also lent a hand to the organization by creating a website that has enhanced its presence in the community.
"I have a web and graphic design company here in Saratoga and we volunteered our time to create a website that will allow the organization to celebrate and promote this strong food culture," said Landsberg.
New members like Landsberg are partially to thank for Slow Food Saratoga's "revival," said Sconzo.
"We have some new members that have really injected a lot of energy and enthtusiasm. We have a better way of getting our word out through a revamped website and Twitter and Facebook," said Sconzo.
Slow Food Saratoga has a satellite chapter at the Schenectady County Community College culinary center and is working to establish one at Skidmore in order to reach a younger generation.
Vote on this Story by clicking on the Icon