Saratoga — Barbara Wayman is a 14-year breast cancer survivor and she likes to tell her story whenever she can.
That wasn't always her attitude, though.
"It took me a few years to get the emotions under control," said Wayman, of Charlton, who was diagnosed with breast cancer in 1997 at the age of 46.
When she'd had time to wrap her head around her diagnosis, Wayman started walking in the Komen Race for the Cure NENY and has made it a tradition for eight years. For four of those, she was more than a walker and fundraiser; she was a valued volunteer to Susan G. Komen NENY.
"When I retired from the state (after 36 years) a friend asked if I was interested in getting involved … they wanted me to do some bookwork because my background was in administration," said Wayman. "I started and that led to being appointed as the treasurer."
Wayman is serving her second term as treasurer and said she's happy to contribute her skills to the organization.
"It's having an interest in the cause. I think that's why most people volunteer in different organizations; they have a passion for what they do and I really like the way they do business," said Wayman.
Wayman's dedication to the cause has not gone unnoticed. She was honored with the Cathy Patten Volunteer Award at the annual "Tickled Pink" survivor luncheon on Sept. 13.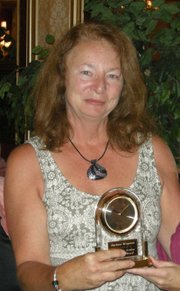 "We are extremely proud of the achievements by Barbara," said Nancy Sciocchetti, Komen NENY board president. "She exemplifies the courage, energy and generosity of all those involved in the fight against breast cancer through Komen Race for the Cure. She also reminds us that every participant in the Komen Race for the Cure – by running, walking, fundraising, volunteering or even sleeping in or just showing up to cheer on everyone – is a separate and remarkable story. But they add up to the exceptional worldwide effort that is Susan G. Komen for the Cure."
(Continued on Next Page)
Prev Next
Vote on this Story by clicking on the Icon