BETHLEHEM — Bethlehem police have arrested a 13-year-old and charged him with setting fire to a shed behind the Bethlehem Central Middle School last week, destroying the structure.
The name of the juvenile was not released because of his age, but he was charged with the felonies of arson in the third degree and criminal mischief in the second degree, and the misdemeanor of criminal trespass in the third degree.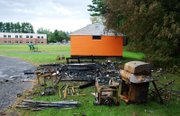 After being processed, he was placed in the Juvenile Detention Center by the Albany County Family Court.
Lt. Thomas Heffernan of the Bethlehem Police Department said it is believed the youth acted alone. Over the past few months there have been many acts of vandalism to school property, and police has arrested six or eight juveniles in connection with those past acts.
"It doesn't appear he runs with the same group of youths that we had arrested for the other acts," Heffernan said.
School officials recently described the destruction of the shed, which was property of Bethlehem Pop Warner Football but was on BC grounds, as the latest act in a rash of vandalism. Other incidents include the making of graffiti, destruction of school property, a fire set in a dumpster and an attempted burglary of a school.
The shed and its contents were valued at about $3,500.
Cases involving juveniles are usually handled in Family Court. The court could take a number of different courses.
"He could get anything from a juvenile fire counseling, he could get probation, or he could end up in a secure juvenile detention facility," Heffernan said. "It is very serious, there are two felony charges."
Vote on this Story by clicking on the Icon