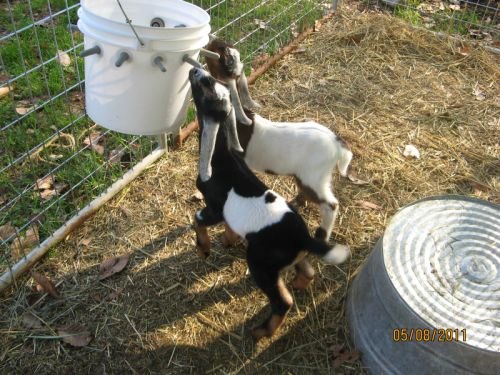 continued — The farm will also have fresh eggs for sale and animals to visit with.
"If the weather holds out I'll have someone demonstrate cooking on an outside pit … crafts like weaving and candle dipping," said Eberhardt. "If rain comes it might change things a bit."
Joy of the Journey Farm is different than its neighbors, said Eberhardt.
"Most of the farms in Greenfield are horse farmers, so we are dairy goat farmers," said Eberhardt. "We feed organically and some others do not."
Eberhardt always loved goats and said before the farm became a business in 2006, she'd planned to just have a few goats for sustainability. Then customers at the farmers market started requesting eggs and the farm and clientele grew.
By next year, the Eberhardts hope to have a plant up and running for processing milk and cheese.
"We'll see what we come up with," said Eberhardt.
Willow Marsh Farm in Ballston Spa is one of the few dairies in New York State that's licensed to sell raw milk. Tour visitors can purchase the raw milk, homemade cheeses and yogurts and get a tour of the milk room to see how cows are milked, said Darlene Curtiss, who runs the farm with her husband Chuck.
Curtiss said the farm hopes to have its own creamery in the future and currently has a self-service farm store where people can buy raw milk, meat, eggs and other dairy products. Willow Marsh also raises beef and veal, hay, compost and vegetables.
No two farms on the tour are quite the same, said Leggett.
Mill Creek Farm is a thoroughbred farm that serves clients from all over the U.S., representative of Saratoga's prominent equine culture.
Schuyler Farms in Schuylerville operates along the growing agri-tourism line of business, offering a 7-acre corn maze, hayrides, a pumpkin patch, a petting zoo, children's activities and more.
Vote on this Story by clicking on the Icon