Photo Gallery
ALCO welcomes back tank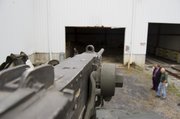 continued — "He wanted a tank. I had old cars," said Jack Pollard with a laugh.
They don't go riding around in their tanks and other vehicles often, but do take them for a spin on special occasions.
"Most of them we put in parades," said Mark Pollard.
For both, it is all about getting to see the excitement on the faces of children.
"It is fun to see the kids," said Jack Pollard. "If you come when we are at a parade we are loaded with kids or veterans … the most fun is the kids."
Building the tank involved a lot of trial and error along with searching for information from manuals or any other sources.
Matt Giardino, vice president of the ALCO museum, said the tank is a good fit with the museum and is a great start on the road to obtaining larger pieces for display.
"We have a home for it, so it is out of the way, safe and secure in here and dry," said Giardino. "This is the first big thing and hopefully not the last."
He added "things are looking positive" and there a few locomotive projects the museum is looking to finalize. Since there are multiple groups involved, he said, it can be a lengthy process. By the spring grand opening he hopes at least one locomotive will be at the museum.
The museum is also trying to compile an oral history of former ALCO employees for an exhibit and asks any former employees to contact the museum. For information on the museum and upcoming events visit ahts.org.
Past Event
Saturday, October 22, 2011, 6 p.m. to 10 p.m.
ALCO Hertiage Museum, 1910 Maxon Road Extension, Schenectady, NY
Not available / $50
Vote on this Story by clicking on the Icon