BETHLEHEM — In the spring of 1943, one of the most unique and yet little-publicized battles of World War II occurred near the former Soviet territory of the Aleutian Islands.
On the morning of March 27 in the northern area of the Pacific Ocean, the heavy cruiser Salt Lake City was commanded on a mission to escort a light cruiser and four destroyer ships to stop Japanese vessels from providing supplies to one of their bases in the Aleutian Islands of Alaska. The result of the blockade was the Battle of the Komandorski Islands, one of the longest naval battles of the war.
On the 69th anniversary of the battle, one Delmar resident told his experiences of being on the Salt Lake City.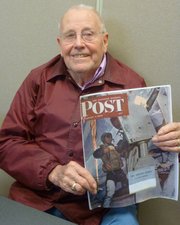 "I don't know how many battles I was in, but I was in almost every naval battle of the war except the Battle of Midway and those in the Philippines," said Adolph "A.J." Krenn, now 89 years old.
Krenn was originally from Hamden, Conn. He volunteered to enter the Navy at the age of 18 in October of 1940.
"I was of draft age, you see, and I figured I could not picture myself jumping into fox holes, so I volunteered with the Navy for six years," he said.
After training, he was assigned to the USS West Virginia, a battleship with the home port of Long Beach, Calif. He was there one year, until the ship's home port was transferred to Pearl Harbor. "Things were heating up by that point with the Japanese," he said.

On Dec. 7, 1941, the day of the attack on Pearl Harbor, Krenn was aboard the ship at his station when it was struck by a torpedo. He was blown overboard and for a minute was in a daze, before he could swim to Ford Island. The battleship was struck by six torpedoes in all.
(Continued on Next Page)
Prev Next
Vote on this Story by clicking on the Icon