continued — Tedisco was referencing what all employees shout when they receive a tip from a customer. Within minutes of serving up food, "subway" was heard several times as customers showed their appreciation.
The first customer in line was Glenville resident Michael Vedder, who had waited to order a cheeseburger, onion rings and soda since 5:50 a.m.
"My parents took me and my father's parents probably took him," Vedder said. "This is my first opening day, first time (being) first in line."
He said the restaurant being flooded and now reopening is what motivated him to get up early and wait in line.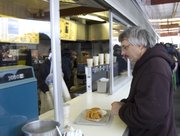 "I had never done anything first … and I wanted to be first at something," he said.
Being the first in line does have some additional perks, though.
"It is really neat feeling, I have been on Channel 6, 9, 13, 10 and I haven't been arrested," he joked. "I was getting bored and cold and whatever and then all the cameras started coming and I was like, yeah, this is damn well worth it."
The people directly behind him in line were 12-year–old Scotia residents Lizzy Kenific and Erica Young, who arrived at 7:13 a.m. Both were playing hooky from school.
"We just wanted to be the first person in line," Kenific said.
After the long wait, Kenific said she was ordering a hot dog and curly fries and Young said she was just getting some curly fries, or "twisters," as they're listed on the menu.
Lansing said he was excited to see people lined before the 11 a.m. opening, and the line only stretched longer and longer as the food was served.
"I think it is great … people line up like they are getting tickets for a concert … that means we have fans, it is not just customers," Lansing said.
Before cutting a ribbon to celebrate the restaurant's reopening, Lansing had five words to say: "Let's cook some Jack Burgers."
Vote on this Story by clicking on the Icon