continued — Cole said since she's so young, Jasmine doesn't really realize anything is wrong with her, and that's exactly how he likes it.
"I just want her to be a happy 4-year-old," said Cole.
Jasmine has gone through about five weeks of radiation and chemotherapy treatments. She's scheduled for another MRI in late April to monitor the tumor and Cole expects she'll begin another round of chemo depending what the scan shows.
"It's rough seeing all the physical changes due to all the medicine she's taking and trying to make sure my daughter has everything she needs," said Cole.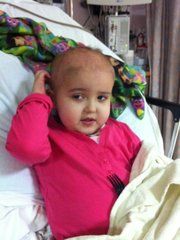 Right after Jasmine's initial diagnosis in 2011, Cole lost his job. He's since found another but said it pays less and the health insurance isn't as good, making medical expenses a struggle. The upcoming fundraiser will be a huge help, he said.
"We're just overwhelmed (by the community). We were basically devastated and didn't have any support up here and the way everybody is helping us out has just been amazing," said Cole. "I don't know what we would do without their help."
Cole said despite money being tight, he and his wife are trying to give Jasmine as many experiences as possible.
"We're trying to … make sure Jasmine gets to do a lot of fun things in case the worst happens," said Cole.
The family just returned from a vacation to Disney World, granted by the Make-A-Wish Foundation. Cole said Jasmine loves to fly and travel so the family is trying to plan excursions for every weekend.
"We're hoping that we can maybe bring some of her family over from Korea to see her or go over there for a brief period of time so she can see the other half of her family," said Cole.
Everything rides on the April MRI, though.
"We were hoping obviously for signs of remission. If not, we're looking into clinical trials," said Cole.
The problem with clinical trials is that Jasmine has to go through radiation and chemotherapy first, before she's eligible.
"You can only get clinical trials if you try the radiation and chemo first. Some new technology is emerging … but none is in trials yet," said Cole. "We're hoping we can buy enough time to maybe see some results."
Admission to the fundraiser is $5 per person. The Delmar Reformed Church is at 386 Delaware Ave. in Delmar.
Vote on this Story by clicking on the Icon