SCOTIA — The owners of the Scotia Diner were evicted from their longtime restaurant to make way for an apartment complex, but a vacant building just down the street could be the eatery's new home.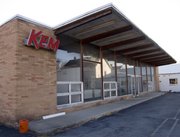 Aristotales "Terry" Kyratzis, manager and chef for the Scotia Diner, presented a proposed site plan to the Scotia Planning Board on Monday, April 2, to renovate the former Kem Cleaners at 114 Mohawk Avenue. Developer Bruce Tanski gave an eviction notice Feb. 15, giving the business 30 days to leave.
Since leaving its 50-year-old location on Wednesday, March 21, a majority of the workers are eager for reopening at the new location, Kyratzis said.
"Everybody is supporting us, but some had to find new jobs," Kyratzis said. "Most of my employees are waiting for this to get started and they are willing to help us out."
In January 2011, the Planning Board approved Tanski's proposal to build a three-story apartment complex, which required demolishing the diner, the former Attanasio's Restaurant and three houses along Glen Avenue.
Village Mayor Kris Kastberg previously said while the lack of commercial space on the street level of the proposed complex does go against the norm for Mohawk Avenue, there was little recourse for the village to amend or stop the development.
The board on April 2 said there were aspects of the Scotia Diner's site plan that were missing and needed to be included. Before approving the plan, the board asked to see building elevations, detailed sign plans, proposed lighting specifications, proposed landscaping, exact dumpster locations and where plowed snow would be placed on site.
"There is too much missing information for us to approve it," board member Lisa Holst said.
The board was sympathetic with Kyratzis on workers being left idle and agreed to hold a special meeting Tuesday, April 17, to review the completed site plan. Kyratzis would then have to go before the Village Zoning Board the following week to apply for a zoning variance because the amount of parking spaces at the location isn't sufficient. Planning Board members expressed optimism the Zoning Board would grant the variance since it is a unique location.
(Continued on Next Page)
Prev Next
Vote on this Story by clicking on the Icon