BETHLEHEM — With 23 years behind them, this year the organizers of the Delmar Dash are looking to the past.
Marcia Adams and her husband Tom have only been directing the race for six years, so they said this year's run will be in homage to races past.
"Next year will be the 25th anniversary and we want to reflect upon that," said Co-Race Director Marcia Adams. "It started in 1988 and has always been one where we try to keep a sense of community. It's one of the town's main events."
As part of the event, organizers are asking runners to bring in Delmar Dash T-shirts from past races to be put on display. The person who brings in the oldest shirt will win a $25 gift certificate to Fleet Feet in Colonie, but the shirt must have a date on it.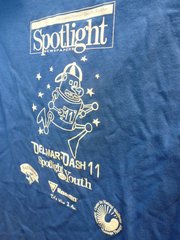 "We actually need people to bring them in because we don't have them," said Adams. She said no one kept the official shirts over the years, so she's hoping runners will have them stashed away somewhere.
For the past five years, Delmar Dash T-shirts have featured a robot created by local graphic artist Tom Kracker.
"I'd been running the race for years and eventually I asked how I could be of help," he said. Kracker soon volunteered to design the new race shirts.
Adams said they were looking for a character to put on the shirts that represented Delmar, but they couldn't think of anything. That's when Kracker's son told him how many people in Delmar refer to themselves as "Delmartians."
"Though at first I started out drawing Martians, I kept thinking of space and eventually it turned into this robot," he said. "I drew something and just kind of ran with it, no pun intended. So now, we feature a running robot."
(Continued on Next Page)
Prev Next
Vote on this Story by clicking on the Icon