BETHLEHEM — After nearly three years of planning, the Bethlehem YMCA finally broke ground on a project to build a lunch pavilion for children participating in its summer camp program and members of the local branch.
At a ceremony held on Tuesday, April 3, Capital District YMCA officials, local politicians and members of the community came together to formally announce that construction of the project would start within days. The goal is to have the pavilion complete before camp begins in June at the 14-acre property located at 900 Delaware Ave.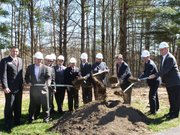 "This will allow the YMCA to further establish its programs within our community," said Bethlehem YMCA Executive Director Derek Martin. "It also allows us to better serve the campers coming through our doors everyday."
Last summer, about 150 campers per week attended the Bethlehem YMCA camp, which ran for nine weeks, said Martin.
The 3,200-square-foot pavilion will include an eating area, room for activities, a food service area, bathrooms and storage space. A walking path for and a utility road from the parking lot will also be built. The building will have water, sewer and electrical connections.
The entire project will cost $490,000. About $250,000 was obtained through grants, with $115,000 coming from donations. The rest will be paid by the YMCA, but donations are still being accepted.
Martin said the pavilion is part of the Bethlehem branch's capital campaign. The entire plan also includes the installation of activity fields, a welcome center and a playground, project totaling an additional $150,000. Those plans will be completed as funds become available.
Martin said the pavilion will be used exclusively for YMCA members and those who attend camp, but it can be rented out for use by corporations and the community for local functions during the off season.
"The hope is to have our ribbon cutting ceremony in June," said Martin. "With the way the weather has been we've been fortunate and the back has been dry compared to years past, so we're on our way."
(Continued on Next Page)
Prev Next
Vote on this Story by clicking on the Icon