BETHLEHEM — Decades of hard work and focus are paying off for one Delmar restaurateur.
After attending business school at the University of Albany and spending more than 30 years in the food service industry, Frank Lee, owner of the Shogun Sushi and Sake Bar in Delmar, opened a second location in Albany on Tuesday, March 27.
"We were pretty successful in Delmar and our concept seemed to be working, so after that it was all about finding the right location," said Lee.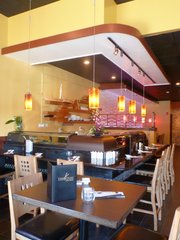 Lee, 53, said he worked in restaurants throughout college and had several Chinese take-out places in the 1980s. He later spent 13 years managing the local TGI Friday's in Albany and then a local 99 Restaurants location.
Lee saved up his money and opened the first Shogun opened on Delaware Avenue in Delmar nearly three years ago in the Main Square Plaza. He said his goal was to open an eatery with local charm that served "exquisite Asian cuisine" prepared by regional chefs.
"I think I liked staying in the business because I like the interaction with people," said Lee, explaining his family didn't really have an influence over his career choice. "It's consistently been something I've always liked to do."
Lee said he spent about a year and a half looking for the right location to open a second restaurant. When he saw the Albany Art Room at 457 Madison Ave. was for sale, he knew the Lark Street area was the right fit for his business.
Six months and $300,000 later, the art room was transformed and Shogun Sushi and Sake Bar in Albany opened. Lee said he liked the location because it's rare to find a building with its own parking in downtown Albany and he liked the New York City feel of the Lark Street area.
(Continued on Next Page)
Prev Next
Vote on this Story by clicking on the Icon