continued — Manager Bill Lai said he feels there was a need for a sushi restaurant in that area of Albany.
"People will find the service and the food consistent for those who used to make the trek to the other location, but even with Delmar being so close to Albany there seems to be an invisible wall where people forget about those locations," he said. "This new location will help."
The Albany Shogun has a full liquor license and seats 72. Lai said he thinks customers will like the contemporary feel of the new location.
Regional artist Tommy Watkins was brought in to design the interior of the restaurant. After giving the first location a more traditional feel, Lee said he asked Watkins for a modern design at the newest Shogun.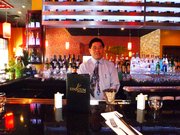 "I think the demographic here demands it," Lee said. "We really paid attention to details and it's very suitable for a Lark Street location."
The designing took six weeks and all of the art inside was either painted or crafted by Watkins.
Lai said he thinks customers will appreciate the presentation and he was surprised how busy the restaurant was after only being open for one week. "I think it shows what a huge following we had coming from the Delmar store," he said.
Lee said for now he is unsure if we will continue to expand in the future.
"It's too early to tell. Right now, all of our energy is going to the second one," he said
Vote on this Story by clicking on the Icon