GLENVILLE — There will be one less position on the ballot in future elections in the Town of Glenville.
The town held a special election on Monday, April 16, for voters to consider a referendum to change the receiver of taxes from an elected to an appointed position. Voters approved the switch by a nearly 3-to-1 margin, with 210 approving the change, or nearly 74 percent, and 75 voting against it, according to unofficial results. Absentee ballots weren't accounted for as of Monday night, but town officials said there weren't enough to affect the results.
Supervisor Christopher Koetzle smiled as results from one of the two voting machines revealed support for the referendum. Once the second machine results confirmed victory, he texted fellow board members the news.
"I'm pleased by the vote," Koetzle said. "It is an affirmation that the people of Glenville supported the decision … people are ready for a more efficient, cheaper government and that is what we are going to deliver."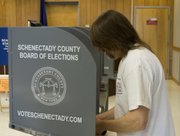 The vote saw a minimal turnout with 285 out of the town's 19,706 eligible voters casting a ballot, or 1.45 percent. The 2011 General Election saw voter turnout of 30 percent.
Koetzle said the turnout was more than he expected since special elections typically have a small turnout and this vote wasn't on a normally scheduled election.
"We worked hard to get the word out, but we are very limited in our resources," he said. "Plus we had one of the most beautiful days of the year to contend with."
Koetzle said the town published legal notices in papers and announced the vote on the town's website. An email was sent from the town's email list, which residents can subscribe to from its website. He said the town relied on media coverage, too.
The proposal was introduced following the sudden retirement of Receiver of Taxes Joan Menhinick, who said budget cuts to her department had made her job impossible. The town cut about $12,000 from the receiver's office in this year's budget.
(Continued on Next Page)
Prev Next
Vote on this Story by clicking on the Icon