continued — Francesca too will need to find an ideal forever home. After the surgery, Shannon said she shouldn't require too much extra care.
"We don't know exactly what she will need going forward. We're hopeful she'll just need regular check ups. She might need medication but if she does that medication is not expensive," said Shannon.
Francesca has a hole in her heart, which makes her heart pump quicker, her breathing rate is faster and her heart and lungs are enlarged. According to her cardiologist, Dr. Aaron Wey, the procedure she needs is called pulmonary banding, which will reduce blood flow to the lungs and protect the arteries from swelling to improve heart function.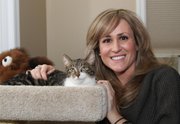 Every AnimaLovers rescue cat gets a full medical work up by a veterinarian. If Francesca had never been saved (along with her sister), she probably would never have had a chance to live.
"She had not had any vet work done. The people who had her just decided they didn't want either kitten anymore," said Shannon. "When she was seen, they detected a heart murmur."
Shannon said over the past 10 years, she's seen rescue cats with just about every scenario. Still, Francesca's case is far from usual.
"Once they're in our program we try to treat them as we would our own pets so in this case that means trying to raise the funds for her surgery," said Shannon. "We get all kinds of things; anything you can imagine, we've had it."
About 50 volunteers keep AnimaLovers running and adoption clinics are six days a week. Last year, the organization found more than 350 cats and kittens forever homes.
"For me … nothing is more rewarding than seeing the difference you can make in the life of a cat," said Shannon. "I love seeing the process and love seeing all the different personalities of the cats and it's really great when you do an adoption and hear back from the people."
Shannon said AnimaLovers is always looking for volunteers to serve as a foster family. Anyone interested in learning more should call 448-5468 or visit www.animalovers.org.
Donations for Francesca's surgery will also be accepted online or by mailing a check to AnimaLovers, P.O. Box 6426, Albany, NY, 12206. Those planning to attend the fundraiser can RSVP by calling 448-5468 ext. 2.
Vote on this Story by clicking on the Icon