BETHLEHEM — Timothy Albright's love of the Helderberg Escarpment began as a child.
Growing up just below the dramatic cliffs, Albright said he would spend days playing and going on adventures inside John Boyd Thacher State Park and along the Indian Ladder Trail. The same went for longtime friend Laura Ten Eyck, whose family owns Indian Ladder Farms in Altamont.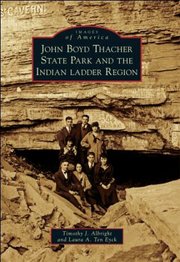 "When we were told to go outside and play by our parents, that's where we would go," said Albright. "We loved exploring and being in the forest."
Now, the two friends are sharing that joy with a new book out about the Helderbergs called "Indian Ladder and Thatcher Park in Historic Photographs." Published through Arcadia, the book describes the area's glacial beginnings, its uses by the Native Americans and early Dutch settlers, to tourism from 1850 to 1960.
Albright said he has been collecting information, photographs and tourism memorabilia on the area for nearly three decades.
"The inspiration for the book actually came when it was in danger of closing," said Albright, referring to the 2010 state budget crisis. "I wanted people to see what I've been seeing for so many years, about the tourism of the park and its early history."
The original trail was used by Native Americans as a way to travel to deal with early Dutch traders at Fort Orange, and an actual ladder was built to scale the cliffs. Geologists say the world's oldest exposed limestone can be found in the Helderberg Escarpment, which makes it one of the world's best fossil-bearing formations.
Albright said his interest in collecting information and photos on the area began in 1984 when he found an old postcard of a replica of the Indian Ladder that was used for tourism purposes.
"I didn't ever know there was an actual ladder," he said.
(Continued on Next Page)
Prev Next
Vote on this Story by clicking on the Icon