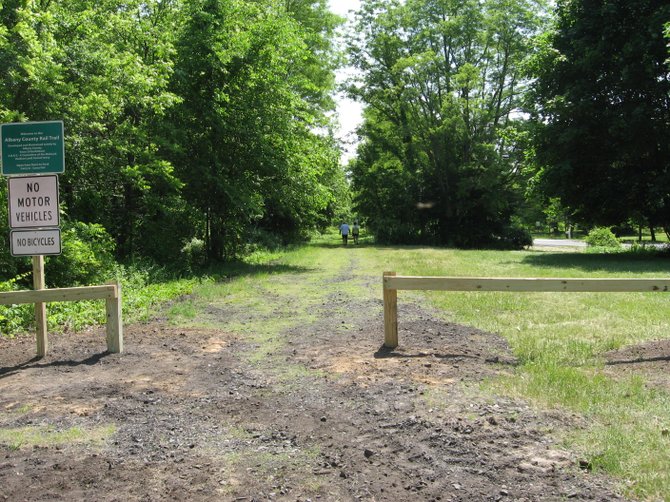 continued — But Knapp said the group is not looking for money from Albany County.
"It is a county resource that has been bought and we feel it's kind of a shame that the public isn't able to enjoy it," she said.
In an interview after the meeting, Knapp said the group is hoping to get another 2.5-mile section to the east of Bethlehem open that leads into New Scotland. The project would need money, but the funds would be raised by the Mohawk Hudson Land Conservancy, she said.
"We are looking at scaling (the plan) back so the trail can be used and not make it as fancy as originally proposed," Knapp said.
The original plans called for paving the entire trail to meet federal grant standards to become a commuter trail. Knapp said at this point the group just wants pedestrians to be able to use additional sections of the trail. The land conservancy and other groups worked with the county to open a 1.9-mile section of the trail in Bethlehem last June at no cost to the county.
McCoy said private firms have come forward looking to develop the rail trail for free, but legal issues have prevented the county from accepting any offers.
Volunteer and licensed landscape architect Scott Lewendon said after the grant application was filed, additional costs were found to fix the trail, brining the cost to $8 million. Lewendon said to get the newest section of the trial opened to pedestrians, $7,000 would be needed to make repairs and install safety railings.
"For the last section that was opened, we took the liability with our insurance and we would do that again with additional sections," said Knapp.
At the meeting, one resident was angered the Rail Trail was the primary topic of discussion when the nursing home is operating so far in the red.
"Are we really considering spending half of our budget that's needed to operate the county nursing home for a rail trail in the middle of a recession?" asked Jeremy Near, who ran for Town Board last year. "It seems pretty idiotic to me personally to put not only the county at a poorer advantage, but the town."
McCoy said he is willing to work with residents on a solution, but legal issues would need to be resolved before the project can move forward.
Vote on this Story by clicking on the Icon