CAPITAL DISTRICT — Patrick Morelli is a Loudonville-based sculptor but his most well known pieces reside far, far away at some of the nation's most famous sites.
Morelli is the creative brain behind the 10-foot bronze monument, "BEHOLD," that looms over the tomb of Dr. Martin Luther King, Jr. at the King National Historic Site in Atlanta, Ga. Coretta Scott King unveiled the statue in 1990 and the entire King family gave Morelli their blessing.
"I met with Mrs. King and the King children in 1980 … and presented (Coretta Scott King) with a small casting of the piece," said Morelli. "I spoke to her about one day doing this monument in honor of Dr. King … and she really shared a vision for that piece."
His other well-known sculpture is a 9/11 memorial at Eagle Rock in New Jersey, revealed in 2002. The 160-foot granite wall is engraved with the names of each victim and eight bronze statues stand nearby.
"Thousands of people had gathered at the site and seen the fall of the towers," said Morelli.
Morelli has been touring the nation and local area sharing with communities the story behind those two monuments. He'll be at the William K. Sanford Library in Colonie on Tuesday, April 24, for a presentation.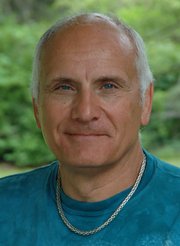 Each monument has its own meaning, it's own story; but, there's also a story behind the story.
Morelli had to raise $250,000 to create "BEHOLD." When an indoor version was unveiled in 1986, the ceremony was covered by reporters from around the world and Nelson Mandela's daughter attended. Just 10 days after the outdoor piece was finished, Morelli received letters and calls from the Ku Klux Klan and after the first Dr. Martin Luther King, Jr. Day the sculpture was guarded by 2,600 National Guardsmen who also protected the King family during KKK protests.
(Continued on Next Page)
Prev Next
Vote on this Story by clicking on the Icon